Facilities
The accommodation comprises:-
23 single bedrooms, 11 of which have en-suite facilities.
2 purpose-built wet rooms and another bathroom with hoist.
Large sitting room with adjoining spacious and bright conservatory.
Quiet room.
Dining room.
Throughout the Home:-
A modern fire alarm system with smoke and heat detectors installed.
All bedrooms are fitted with wash basins.
Advanced Nurse Call System. For additional safety and security this can also be connected to the bedroom door or a sensor mat.
Full central heating throughout.
Stannah stair lift.
Barn Park is open for inspection at any time without prior arrangement.

The Kitchen:-
Produces first class food including a high proportion of home-grown fruit and vegetables.
Special diets, for instance vegetarian, diabetic or coeliac, are catered for.
All food preparation is carried out under hygienic conditions.
Meals are normally served in the dining rooms, although Supper may be taken in the Resident's room or in the sitting room, by request.
Family and friends are welcome to join us for Sunday lunch by prior arrangement.
Beverages are available at all times.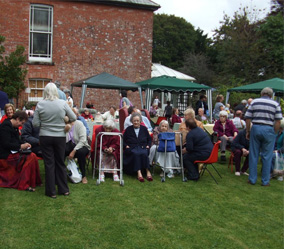 The Gardens
Our beautiful enclosed terrace garden, reached from the conservatory, provides a pleasant and secure environment, where Residents are able to relax and enjoy being in the fresh air and watch the birds feeding. We have another enclosed patio outside the kitchen where we often sit. Refreshments are served out of doors when the weather permits. The rest of the gardens are laid to level lawns, with shrubs and a long herbaceous border. There is a ramp for disabled access.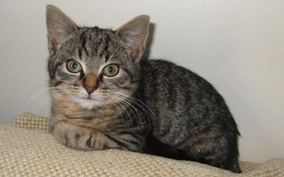 Pets
We actively welcome pets, as long as they are well-behaved! We recognize how precious they are, and that being able to keep them provides a link to the home and the life that has been left behind. Barn Park is registered with the Cinnamon Trust as a pet-friendly home.

Visiting Services
Our hairdresser visits us every week for cutting, shampoos, sets and perms. Our qualified chiropodist visits us regularly. There are services held at the Home for those of our Residents who wish to take Communion. Newspapers and magazines can be ordered to be delivered on a daily basis.

Telephone
If a Resident wishes to make a telephone call, they may use our portable handset in the Quiet room if they need to be private. Telephone lines can be installed in Resident's rooms if they wish.

Medical Care
We are fortunate in that we have three excellent surgeries within a nine mile radius. If a new Resident has been living locally, he or she would of course stay with the same GP.
We enjoy a happy working relationship with the District Nurses who are always very helpful and supportive to us.

Valuables
There are facilities available for the safeguarding of valuables.
Our professional and dedicated Care Team are able to provide services individually tailored to the needs of each Resident. We can provide care and support for couples with different care requirements.
Care Specialist
We provide care for the Elderly
We specialise in Alzheimers Care
Respite Care
Short term and weekend care