Barn Park Residential Care Home in Devon
Barn Park Staff:
We value and appreciate our staff tremendously... after all, how could we manage without them? They are our most valuable resource. We are happy to say that many of Barn Park staff have been with us for years, some since the very beginning of Barn Park as a residential care home in Devon. Last October Margaret retired having been with us for over 20 years and Pamela has just retired after 21 years. Both are sorely missed on a day-to-day basis at our dementia care home but we are still in touch.
Denise, head of our catering department, has also been with us from the beginning, with short holidays to increase her family. Her eldest, Sonia, was a great help to us at weekends before she went off to university. Her youngest, Jolie, helps us with preparing teas and we are just waiting to see what Lloyd would like to do! Margot, who is our senior night care assistant, started with us in 1995 and continues to provide a most valuable service.
Mary, our care manager, is a relative newcomer, only joining us 13 years ago! She is ably supported by Rachael, our deputy care manager and Simone, our Senior Supervisor. This is not to say, however, that we do not appreciate staff who have not been with us for such a long time, because of course we do. Our staff are able to work together as a team, using their initiative and their considerable skills and experience, welcoming new members of staff into the team and giving encouragement and support when needed.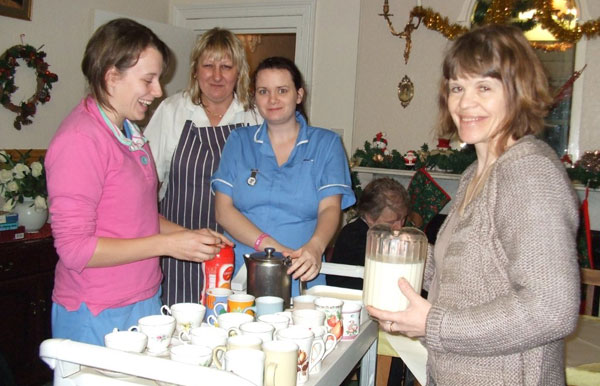 All staff go on an induction course of training when they join us and then usually go on to NVQ training. Most members of staff have either gained or are working towards NVQ Levels 2,3 or higher. During the year we have refresher courses in Fire Drill, First Aid and Manual Handling.
It is interesting to note that we have three mothers and daughters at Barn Park, Mary and Emma, Denise and Jolie, and Simone and Kim. We think this says something very nice about the friendly atmosphere here at our residential care home.
Barn Park Testimonials:
September 11th 2010
From: Mrs.Penny Medland
Dear Derek,
Further to our conversation on the phone regarding the care of Dad, this is just to put in writing for you and for all the staff, how much I recognise and appreciate all that is being done for him. Nothing seems to be too much trouble and the whole atmosphere at Barn Park is so alive and cheerful. There is a general encouragement which, whether the residents recognise it or not as such, is bound to lift their spirits and for a visitor it is a joy to see. Without exception, Chris and I have been so impressed with the staff's attitude.
The fete on Saturday afternoon was lovely.
Please convey my thanks to everyone.
With every good wish,
Sincerely, Penny ( Medland )
February 5th 2010
My friend Margaret Bellfield has been here for eight years. Through all that time she has been looked after with loving care and kindness,
She always looks so fresh and tidy and most comfortable.
If only all elderly folk could be so fortunate with their care in old age.
A.C.Oxenham
March 08th 2011
I have visited today in my role as Senior Health Care Assistant with the District Nursing Team and have been very impressed with the care given here. The staff are extremely well informed about their clients' nursing requirements. They are kind, gentle and respectful. This is a wonderful Home from Home. One of the very best!
Jo Hancock
The originals can be seen, with other kind letters, at Barn Park Residential Care Home..
Care Specialist
We provide care for the Elderly
We specialise in Alzheimers Care
Respite Care
Short term and weekend care